1 Nov 2023 [blitz]
Monero Observer Blitz #23 - October 2023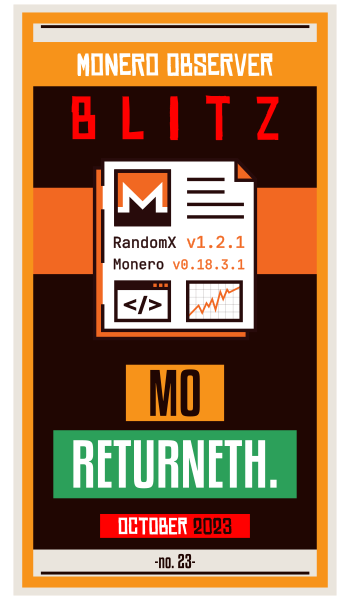 Here's a recap of what happened this October in the Monero community:
Breaking
Monero v0.18.3.1 'Fluorine Fermi' was released with important bug fixes (1)
tevador released new RandomX versions (1.2.0/1.2.1) after ~2 years of development (2)
Rucknium urged Monero users of Exodus Desktop wallet to update for 'privacy fix' (3)
R&D
Funding
Culture
Community Messages (10/55)
My personal contributions
+92 Reports/Stories
+55 Community messages
+5 Dev reports
+4 Art reports
+13/+2 Meeting logs/summaries
+18 Calendar events
+10/-2 Resources
+1 Blacklist entry

Daily
As needed/On demand

updated reports, listed 55 Community Messages and 18 Calendar events (85,86), added 10 new Resources (& removed 2) (87) & added 1 Blacklist entry (LocalMoneNo.co) (88)
published 2 Meeting summaries: MRL 2023-10-04 & Seraphis 2023-10-09 (89,90) and uploaded 13 meeting logs (MRL 2023-10-04, MRL 2023-10-11, MRL 2023-10-18, MRL 2023-10-25, Community 2023-10-14, Community 2023-10-28, MoneroKon24 2023-10-14, Monerokon24 2023-10-28, Seraphis 2023-05-15, Seraphis 2023-10-02, Seraphis 2023-10-09, Seraphis 2023-10-16, Seraphis 2023-10-23, Seraphis 2023-10-30) (91,92,93,94,95,96,97,98,99,100,101,102,103)
added new stat to menu bar (Monero latest version), updated PGP key (expiration date), minor layout fixes

Weekly
Credits/special thanks to:
everyone that reported broken links, suggested edits, sent anonymous news tips and shared my reports
the cypherpunks for their encrypted emails and XMPP (OMEMO) messages
the monerano that reminded me to update the PGP key
all anon MO loyal readers and generous CCS contributors
hard working people that keep building and maintaining cool stuff for the Monero community
---
That's it for the 23rd edition of Monero Observer Blitz.
Previous editions can be found on the /tag/blitz page.
Let me know if this was helpful, thanks for reading!
-escapethe3RA
PS: feels awesome and 'just right' to be back, thanks for the warm welcome everyone!