10 Feb 2023 | Updated 17 Feb 2023 [services]
Trocador announces LocalMonero partnership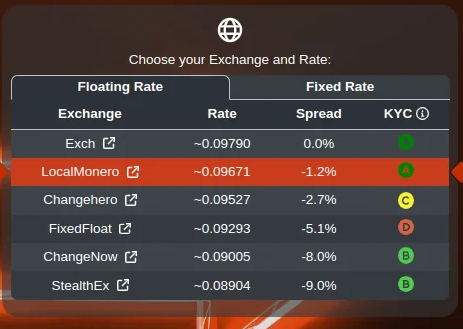 The Trocador.app1 exchange aggregator has announced2 a new partnership with LocalMonero3:
Hey guys, Trocador's team is happy to announce we have partnered with LocalMonero in order to offer users the ability to buy Monero from LocalMonero sellers via Trocador.
This integration allows Trocador users to buy XMR (fixed rate swaps) without the need to register a LocalMonero account. Selling Monero to LocalMonero buyers is currently not supported.
Features overview
You can buy any amount of Monero using Ethereum, Litecoin or Bitcoin
There's no need to create a LocalMonero account
Trocador will automatically ask for the seller's ETC/BTC/LTC address via chat
Trocador will automatically mark the purchase as 'Paid' inside LocalMonero [..]
Trocador is also evaluating the possibility of implementing other pairs and will start offering a small insurance to all trades next week.
To learn more about Trocador, consult the previous Monero Observer reports4'5'6.
This is an ongoing story and the report will be updated when new information is available.
---
Update: Trocador started offering insurance on all trades7.
---